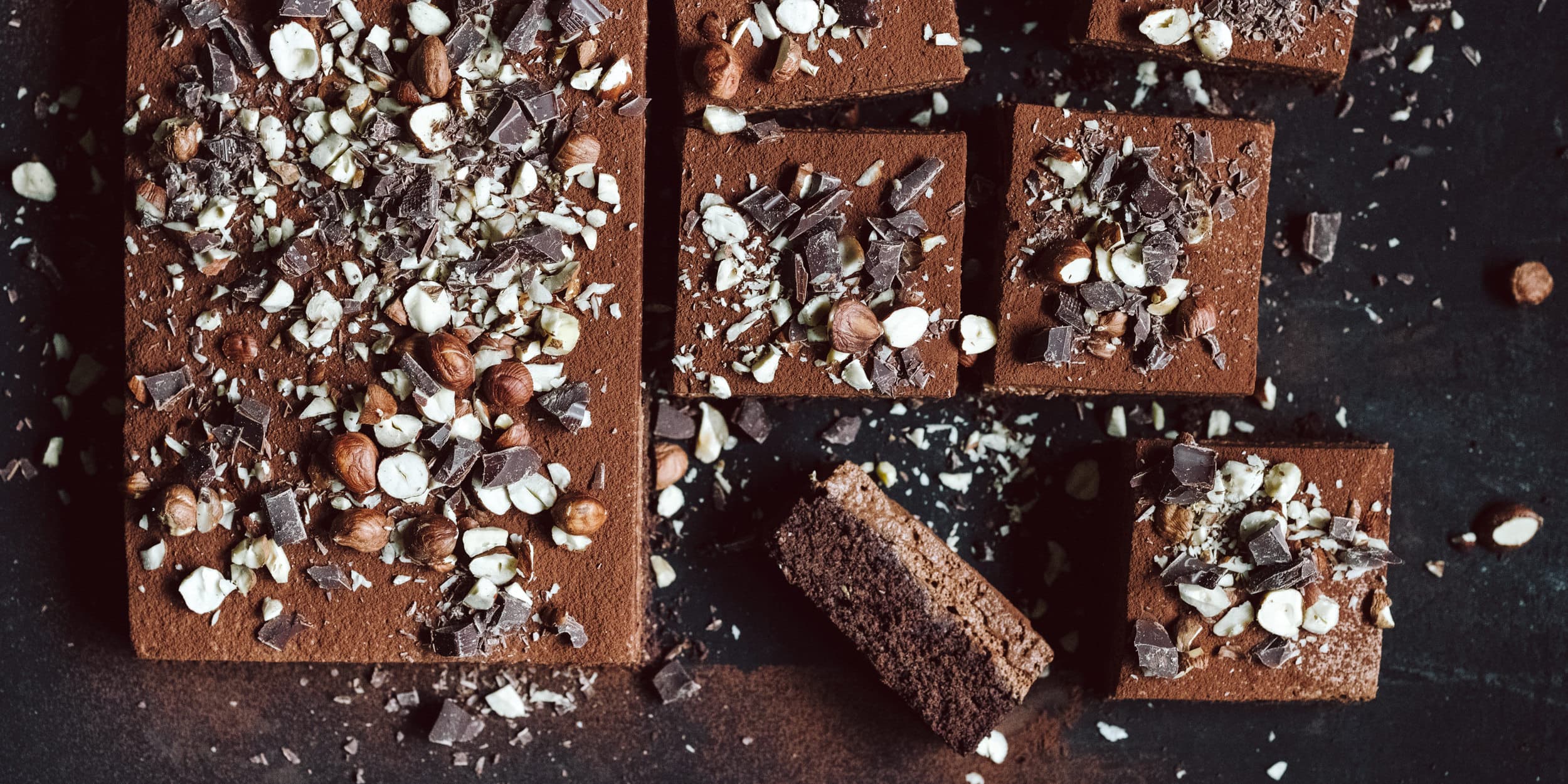 As you know, we love chocolate. If we use it, a lot of it goes directly into our cakes, like the Cherry Clafoutis or the Beet Root Chocolate Cake. Beside the chocolate, what we especially love about our Mousse au Chocolat cake is that we can use all the leftovers from the kitchen for it. The nuts remaining after making fresh nut milk, for example. Instead of using 50 g almonds, as stated above, we use 70 g of the firmly pressed nuts. With that, the usual time to prepare nut flour drops, too.
Using the thick water of legumes is an old hat in vegan culture. Still, maybe it is new for some of you. While cooking legumes, the starch jellies and the proteins dissolve. Due to that, the water can be beaten up like egg white. It is the perfect alternative for eggs to bake fluffy cakes. We often have chickpeas. We save the cooking water in a glas to use it further. Beaten up to a stiff cream it is the perfect foundation for our mousse au chocolat.
Even if we use aquafaba enthusiastically, we dearly remember our first skeptical tries. Does it really work? Won't the cake taste like legumes? Maybe you think alike and thus did not use it yet. Go for it! The result is fantastic!
For the base, mix the ground flax seeds with water and let it soak for 10 minutes. Preheat the oven to 180°C (upper/lower heat). Prepare a rectangular baking form (ca. 20 x 30cm) or a spring form (26 cm diameter) with baking paper.
Chop the chocolate and give it, together with the cocoa, into a mixing bowl. Cook the almond milk, pour it over the chocolate and mix, until the chocolate melted. Add the raw cane sugar, sunflower oil and the soaked flax seeds and mix well until it is smooth. Mix the flour with ground almonds, salt and baking soda, and incorporate it well with the chocolate mix. Don't mix too long, otherwise the dough will turn stiff.
Pour the dough into the baking form, smooth it and bake it for 15 minutes on the middle rack (test with a stick). Let it cool afterwards.
Give the Aquafaba in a bowl and beat it stiff with a mixer. Towards the end, gradually add salt and sugar.
Roughly chop the chocolate and melt it in a water bath. Add the cinnamon. Add a quarter of the Aquafaba to the cooled down chocolate. Carefully add the rest of the cream in three more steps. Spread the Mousse au Chocolat evenly on the cake base and put it in the fridge for at least one hour. Roughly chop the hazelnuts and remaining chocolate. Sift some cocoa powder over the cake and decorate with chocolate and nuts.
FOR THE BASE
2 tbsp ground flaxseed
4 tbsp water
100 g dark chocolate
50 g cacao
1 tsp salt
150 ml almond milk
80 g whole cane sugar
80 g virgin sunflower oil
200 g wholemeal spelt flour
50 g ground almonds
1 tsp baking soda
FOR THE MOUSSE AU CHOCOLAT
200 g aquafaba (room temperature)
1/4 tsp salt
3 tbsp whole cane sugar
150 g dark chocolate
1/2 tsp ground cinnamon
ALSO
50 g hazelnuts
50 g dark chocolate
cacao