We had apothecary bottles as vases, aromatic spices, delicious juices and wines, chocolates, and the greatest roasted hazelnuts on our product lists with a lot of more cool stuff. Well then. Roughly, we had everything the guests would need for cooking. Now, of course we needed recipes. Coordinating 20 people in one kitchen was a new challenge for us. Everybody should be occupied, but on the other hand the recipes shouldn't be too difficult or tedious. We decided to have carrot soup with green spelt and fresh bread from the brot&butter bakery as a starter. The main course would be a colourful salad from finely sliced winter vegetables with beet root on balsamic lentils, the major component being spelt spaetzle with roasted red cabbage and a creamy mushroom sauce. As dessert, we desperately wanted to try the professional ice cream machine and create an apple cinnamon ice cream. Along with it, we wanted to serve ravioli with hazelnut chocolate cream. Sounds great, doesn't it? In the morning, we went to the market at the Wittenbergplatz to get fresh vegetables, and with bag and baggage we went to our location. When we arrived, the Manufactum sprinter bumper was already waiting with two pallets loaded with goods, which needed to be unloaded and unwrapped. We did not have to prepare the whole meal for our guests; however, we needed to equip the whole kitchen. We rinsed, flushed, polished, setting and decorating the table until the first guests arrived. In contrast to our other events, the hardest part for us was already over. Now, we had 18 little helpers who would cook a delicious meal with us out of the great ingredients. And you know what? It worked and tasted perfectly. Nothing burned, nothing was oversalted, we couldn't have made it better. So much for too many cooks spoil the broth! The atmosphere was wonderful and we wanted to thank our guests who prepared our recipes with so much love and care. We are overjoyed that Manufactum made this special evening possible!
A few weeks ago we got a lovely email in which Manufactum was introduced to us. If we felt like working together? Um, yes, instantly! We were in love with the long lasting, sustainable und fairly produced products of this special store for a long time already. Not only because of the high quality materials they use, but especially because of the great aesthetics which exactly meets our taste. Quite a lot of the products already found their way to our home and everyday life. Even if we are not looking for something in particular, we like to quarry through the store at Ernst Reuther Platz. Not only do our cookinghearts leap for joy when we are there, but you find basically anything you need for gardening and house. Since we got the first mail in summer, we talked to a few members of the staff of Manufactum and we are excited with how much lifeblood everybody works in this company. We have to restrain ourselves because we could go on and on why Manufactum is so extraordinary, but we want to tell you how the story went on after the mail!

The basic idea for our cooperation was found pretty fast: a relaxed evening with lovely people, cooking together, gibbering, laughing and, of course, savouring. You know how much we love such evenings, so we went straight to business and planned the event. As a special, we were allowed to pick at a whim from the product line what we wanted for our common evening to equip and decorate our kitchen and festive table. We favour the carbon steel knives from Herder, which we've been using exclusively for years now. In no way they should be missed! And finally, after a long time of flirting with the copper pots by Falk, we could try them. Say we're crazy, but already the cast-iron handles raise smiles from us. Again, we are drifting away! It is really hard to stay with the story without swooning.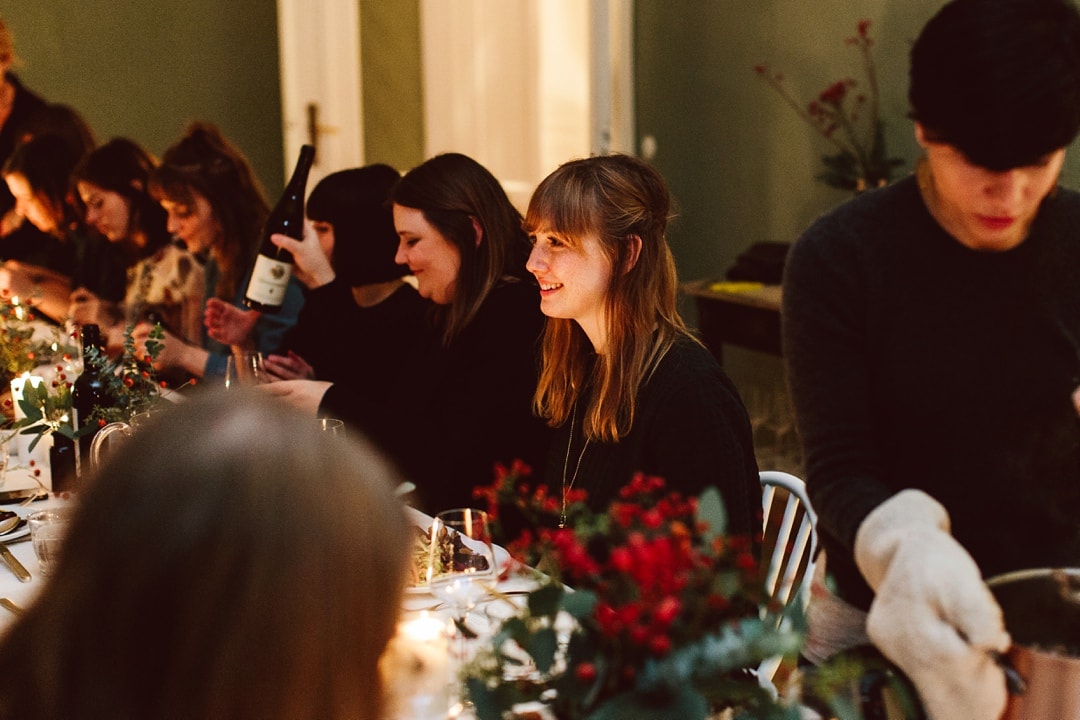 This post is created in cooperation with Manufactum. Even though we were paid for this article, we give our own opinion uninfluenced. We had full rein over text and content of this article.