But also suggestions on how to make the garden more attractive for insects, birds and small animals in autumn were important to us. Conscious consumption for us also means not wasting anything. As you know, we conserve our surplus harvest by preserving. Instead of colourless preserves, as they are still piled up in various cellars and dust, we store sauerkraut kimchi, zucchini chips, semi-dried tomatoes in oil, spicy cucumbers, bright red dried strawberries, forest fruit jam and Co. in our larder. In a small workshop we introduced our guests to the different methods of preservation. Together we put our noses into all the jars of fermented and dried food, tasted them of course and then prepared a cucumber kimchi and sauerkraut from red cabbage and apples. We have found all the necessary utensils for preserving such as drying utensils, dry grids, preserving jars, cooking pot, cabbage slicer, etc. in the extensive assortment of Manufactum.
By the way, it was really uncomfortable up here in the north in the days before our event. Wind whipped the rain to the windows and we just wanted to hide in bed. Therefore we are incredibly grateful for the great weather at the event! So we were able to prepare dinner on the fire as we had wished. Potatoes were sizzling in cast iron pots next to young carrots and mixed mushrooms. Our preserved supplies were part of our recipes. We served baked potatoes with grape chutney and fried sage, apple with tarragon oil and elder capers, fried mushrooms with herbs, grilled carrots with fermented garlic and hazelnuts. As a sweet finish, there was fried pear with walnut-rye crumble and a sauce of rowan ash.
In order to be able to enjoy the menu guaranteed in dry and warm weather, we have transformed our shed, which over the years had accumulated many layers of dust and cobwebs, in which shingles, stones and junk piled up, into a cosy room for dinner in the preceding days. With muscle power, verve, shovel and broom we faced the whole thing. But the preparations for the day had also started weeks or even months before on many other levels. Especially for the event, we planted certain flowers in our garden, so that this time the decoration would be completely in our own hands, also from the point of view of conscious consumption. The energy expenditure for our flowers went to zero. No transport routes, no cooling, not even a regular watering of the beds was necessary. Besides the fresh flowers like dahlias and sunflowers, we started to dry strawflowers and grasses in summer. We can use the dried bouquets again and again and reassemble them with fresh seasonal elements. It was a lot of fun and with the result of having gained a new room, we are incredibly happy. To let this special day end at the fire was the crowning conclusion of the event for us.
We would like to thank our guests for taking the road here, Manufactum for trusting us again and making this day possible in the first place. A big thank you goes to Ben Donath, who supported us again in the kitchen and to Lisa Strube for her energetic help!
We live in a global consumer society. We use and consume a wide variety of consumer goods on a daily basis, often beyond our needs and resources. How can we manage to consume more consciously and sustainably and still not live in renunciation? Together with Manufactum* we have approached this topic and invited to an event in our settler house. Many of our thoughts on conscious, sustainable consumption are reflected here. Be it in the design of the rooms, the handling of resources such as water and firewood or our food.
For us, the first thing that comes along with conscious consumption is the question of what we need in our lives and everyday life at all. These can be vital things, such as food, pots and pans to prepare them, a bed to sleep on, clothes on the body. But these can also simply be things that bring us joy every day and enrich our lives. A beautiful cast-iron teapot, a hand-forged sickle for garden maintenance, a wonderfully fragrant soap. Products that do not necessarily care for our physical but for our mental well-being. We have consciously decided to furnish our settler house in a minimalist way. We want to avoid the accumulation of unused things, which is why we let purchase decisions go through our heads for a long time.
The reason why we often end up with the "Department Store of Good Things" when we decide on certain products is that Manufactum is very concerned with the criteria that are also important to us when it comes to purchasing new items. Since the company was founded over 30 years ago, it has been important for the company, as a counterpoint to the throwaway society, to track down products that are manufactured in a way that conserves resources and is socially acceptable, that are durable and timeless, and that convince in function and aesthetics. Tradition and proven knowledge of those craftsmen who know how to process products masterfully are just as important as new, forward-looking manufacturing processes that conserve our scarce resources. Values such as sustainability, innovation and regionality do not represent ideal rarities for Manufactum or for us, but are state-of-the-art quality characteristics. It is not only what ends up in the consumer's shopping basket that counts, but the whole way to it and the people behind it.
We wanted to take a closer look at these points in a small round on a relaxed day in the country. For us, getting a direct connection to the products is an important step towards conscious consumption. We now have this connection directly in our own garden. During a tour of the kitchen garden, we clarified our approaches to near-natural cultivation using mixed crops, seed-solid varieties or fertilizers without chemicals. To experience how many steps are necessary and how much time passes from the small seed to the fruit bearing plant, we have created a completely new awareness for food. Our already vegetarian, regional and seasonal cuisine has been transformed by our own garden. It was important to us to share this appreciation with our guests.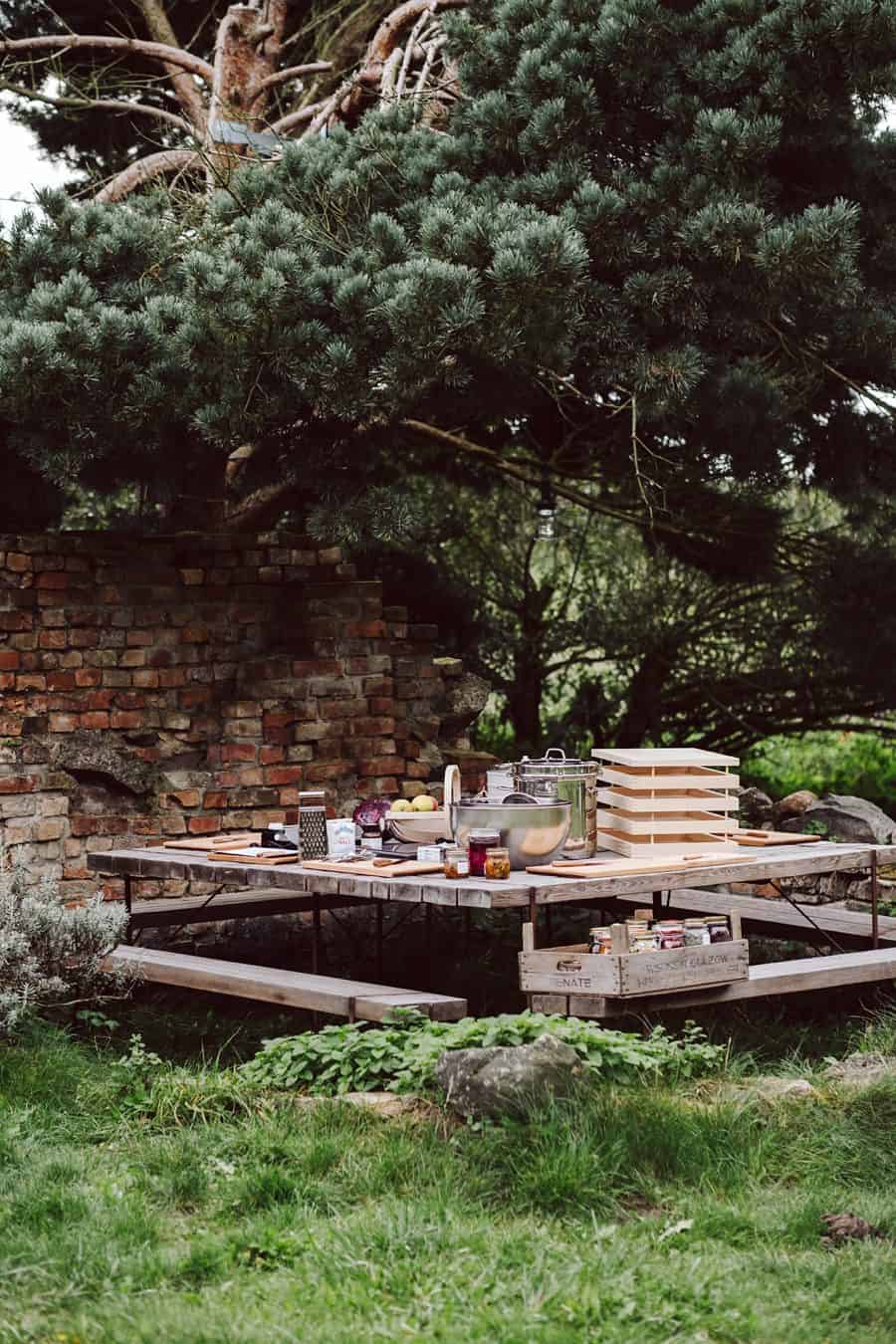 This post is created in cooperation with Manufactum. Even though we were paid for this article, we give our own opinion uninfluenced. We had full rein over text and content of this article.