We are welcomed with presents from the owner's garden, regional specialties, including olive oil from her own cultivation. We take a short look around, wondering about the cold in the trulli, but then straight head to do the groceries. After all those days in the hotel, we finally want to be at the stove ourselves again. We are pretty fast in Ostuni, the white city, and primarily get fresh vegetables and fruits. Our way there was really fast, we just had to follow the main road. On our way back, our GPS seems to mean well with us and leads us to every trulli in the area. We drive along branched roads, left, right, right, left, and over dirt roads. Earlier it was so easy. Damn technology! It get's darker by the minute and we wanted to be back already. When we finally arrive at our trulli, we don't want to get our thick jackets off because inside it's not much warmer than 12 degrees. As we find out, the gas tank is empty. This means no heating, no warm water. The owner is waiting for the long due gas delivery since days, but she is staved off every time. Hello Italy! We put on every electrical heating we can find and also light some candles. Of course, the fuse is out immediately. We are hungry, cold, and definitely imagined this day a bit differently… Tomorrow is Christmas. The cottage's landlady leaves no stone unturned and brings a extemporary bottle of gas and also another electrical heating. We make ourselves a home, snuggle into bed, which luckily is equipped with heating blankets. Lights out, eyes closed, hoping that our stone lodge is a bit heated in the morning already.
We've been looking for a proper lodge to stay while we are in Apulia for a long time. With lots of space for cooking and experimenting with regional vegetables, and, above all, with a stone oven for baking pizza, focaccia and other goodies. Of course, we wanted it to be a trulli, the typical round houses with a stone roof. To find a trulli was not the problem, but to find one to fall in love with, that's a whole different point. One night, Susann searched until almost 4 in the morning to find our dream lodge. Her eyes were already dropping when she finally found the agency Cielo die Puglia. Afterwards, we only had to pick one of the carefully selected locations. Full of anticipation, we wrote an enquiry and immediately received a lovely response. From Isabell. She did not only arrange the reservation of the trulli, but also provided a lot of great addresses. We directly told her what we were up to – to get to know as much of the Apulian kitchen. Of course, this only works by talking to the people behind the stove. Listen to their stories and watch them working. Even young people hardly speak any English, so it is hard to get in contact with them without knowing Italian. Isabell was the perfect connection and helped us where she could. Maybe she helped a bit too much, because we had trouble deciding what to do during those few days. Too many possibilities, too short time. After 4 days in the cave city of Matera we are back on our way to the coast. Along olive groves and old masserias, through settlements with trullis, and finally, there is our lodge.
By the way, if you don't pay attention you will get a depilation of your arms from the oven for free. First, we try a simple focaccia with olive oil and rough sea salt to get the groove for the oven and to get a feeling for the heat and timing. A few minutes later, Yannic pulls out an almost perfect focaccia. Well, we really are ready to go. Beaming, he forms the next dough piece and belays it with tomatoes and olives. Get it on the hot stone and anxiously watch the dough rise and turn golden yellow. While we mesmerized stare at the oven we notice once again, how easily it is to make us happy with the simplest things. Slowly, the sun is setting and we notice that it is actually winter and the end of December. We quickly bake our pizzas and get into the warm tulli. On the pizza we have Cardoncellos, which are king oyster mushrooms, the typical mushrooms for this region of Apulia. Furthermore, we roasted pointed peppers in the oven and skinned them afterwards. This way, the vegetables get a very tasty flavor. Of course, olives, capers, fresh tomatoes and a wonderful organic mozzarella may not be missed.
Happy and beaming we sit in the warm kitchen with two incredibly tasty, crispy pizzas and three focaccias for the next day. It's Christmas Eve, maybe we should have stuck a few candles into the focaccia…
Merry Christmas!
New day, new luck. At 7 a.m. we are woken by sunbeams once again and we explore the trulli's neighborhood. By the way, where is the donkey who made an incredibly noise this morning and thought himself to be a cock? The sun sets us up, even if it is crisp outside. Today's goal: fire the stone oven, bake pizza and focaccia, and enjoy the lovely sunny day outside. We already baked in a stone oven when we were in Spain. Unfortunately, we never fired this thing ourselves until now. Yannic is confident, though, he paid enough attention and knows how to do it. Well, let's let him work… However, dough has to be made first, it shall prove for a long time. For that, we took some of our own sourdough from home, which is 5 years old by now. We already prepared a poolish to set over night, which is bubbling happily already. To the poolish we now add flour, water, salt, and a bit of dried yeast. Knead everything thoroughly and give it a long time in front of the warm heating, ready is the perfect pizza dough. With that, back to the fire. After half an hour, flames flicker the oven's ceiling and built a great heat. Time to throw in the first chestnuts, which will be a small starter for the first appetite. After two hours, we can finally start baking happily. A quickly poured glass of red wine, sleeves rolled up and get to work.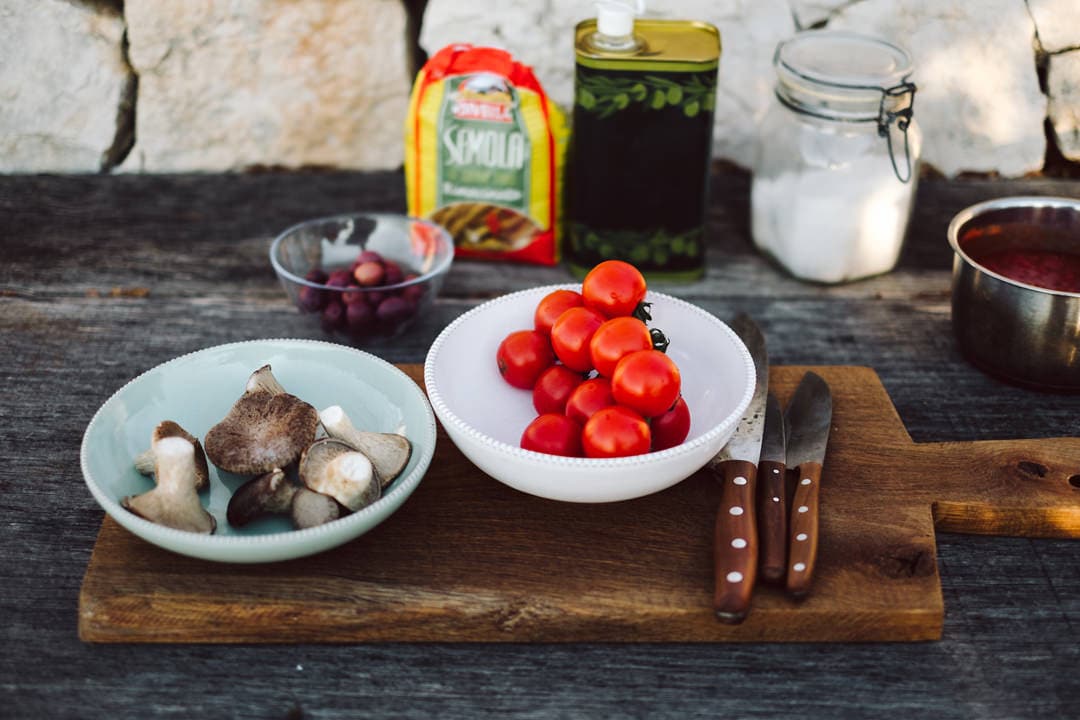 In addition, how could it be any different, we have orecchiette. We slice the vegetables and roast them in olive oil with a bit of garlic and chili. Afterwards, add the pasta to the pan. As a topping, we have tiralli, another regional specialty. They are small pastry rings made of durum, olive oil, white wine, and salt, and are dipped into simmering water before baking. We crush the tiralli and roast them with pine kernels in a bit of olive oil. Ready is a super tasty and quick lunch. The Apulian cuisine is often called the cuisine for poor people, but we think puristic fits better. Few ingredients are combined to simple, delicious meals. Without knick-knacks and complex preparation.
The next day we start lazily. After a short walk we check the vegetables which our landlady gave us from her garden. Among them we find puntarella, a vegetable we did not know yet. It is an Apulian winter vegetable from which you mainly eat the blossom buds. Puntarella is a variation of chicory and you can eat it raw in a salad, but it can also be cooked. It is always thrilling to cook something you never tried before. This is exactly why we went on this culinary trip. We did not research on a traditional recipe for puntarella on purpose, but want to try our own interpretation of the Apulian cuisine, based on our impressions we gathered so far. We think of a dish with Cardoncello mushrooms, spring onions and the quirky buds of the puntarella, which look like giant asparagus tips.
Of course, we have homemade tiralli, the focaccia with the herbs, a traditional bean paste made of dried fava beans and cooked puntarella (here it is again, our newly gained friend), a tart filled with zucchini and ricotta, and, as a killer, the probably most delicious lemon ice cream ever. It feels like biting into a lemon, and we are not so far from the truth. Chiara plucked a few lemons the day before from the garden, diced and froze them, and blended them with just a bit of sugar. To eat the ice cream in the warm sun while looking at the trees the fruits came from is incredibly pleasant. You can't get it any more regional. Maria often made this gelato to get her son to eat more fruits. A Trojan vitamin c bomb, so to say. By the way, he came to visit for a few days from Thailand, where he lives and works at the moment. When he heard this we realized that the masseria is actually closed over the holidays. We are the honorary guests and the whole family took time for us. This is so heartwarming. During the visit on this property you really feel the Italians' hospitable mentality. After dinner, Chiara even showed us the area. In the family's olive grove are some trees which are more than 100 years old. Of course, oil is pressed from the olive trees, and also red, rosé, and white wine is produces by the Tommasinos themselves. In summer, they harvest their own vegetables. We drive by all those olive trees to a Caribbean beach, which is a natural reserve with flamingos. We have never seen flamingos in wild life. While the sun is setting, we drive along the sea back to the masseria, say goodbye heartily and hit the road with a bottle of wine and a well scenting lemon in our pockets and lots of love in our hearts. We declined the offer to stay with a heavy heart. No tooth brushes, the fridge full of food, appointments, and, well, it's us Germans again. You have to be able to handle so much cordiality. It's not so easy to digest to know someone turned their own Christmas upside down for you. But we will be back! We promised Maria and Chiara. Maybe you want to join us? This place is perfect for a Krautkopf workshop. We are already making plans…
On December, 26th we are on our way to the beautiful Masseria Potenti. Masserias are old farm- or country houses, and you have plenty of them in Puglia. Most of these buildings were built during the 14th to 18th century. Many owners produce wine, olive oil, and other local specialties themselves, or grow their own vegetables. Full of anticipation, we drive on large roads with potholes to Masseria Potenti. Again, we are warmly welcomed, with hugs and kisses, this time from the owner Maria. As if we knew each other for years and haven't seen each other in a long time. It is a bit difficult for Maria to pronounce Yannic's name, so she unceremoniously gives us Italian names: Susanna & Giovanni. She takes us directly to her kitchen in which she can run riot every day. As probably all Italians, she cooks with gut instinct, doesn't stick to recipes, except to her great-grandmother's, and loves to try new things. She tells us from her love of cooking with fresh herbs, which is essential to her cuisine. Just for us she prepares a new focaccia creation with lots of herbs and lavender. We watch her for a while how she flourishes the cooking spoon and let her daughter Chiara show us every corner of this unique estate. We can't stop wondering. All those lovely details. Every flagstone, every blanket, every picture on the wall, carpets on the floor are chosen perfectly and every detail tells a story of its own. Chiara tells us with so much lifeblood how her great-grandmother sat in the rocking chair, how the ceramics in the old cupboard have been in the family's possession for a long time and how Maria is still looking for more unique items to give the masseria its own charm. Even the light is different. Because of the chalk white walls the light is reflected in a way which makes the lodge seem to glow itself. Somehow, you have a feeling of being in Morocco rather than in Italy. Blowing white fabrics, a wood of cacti, lemon and orange trees which spread a wonderful scent; it's another universe, really. After we have seen quite a lot, we are lead to a huge table set for two. Then, one delicacy follows the other which Maria carefully prepared in the kitchen in front of our eyes.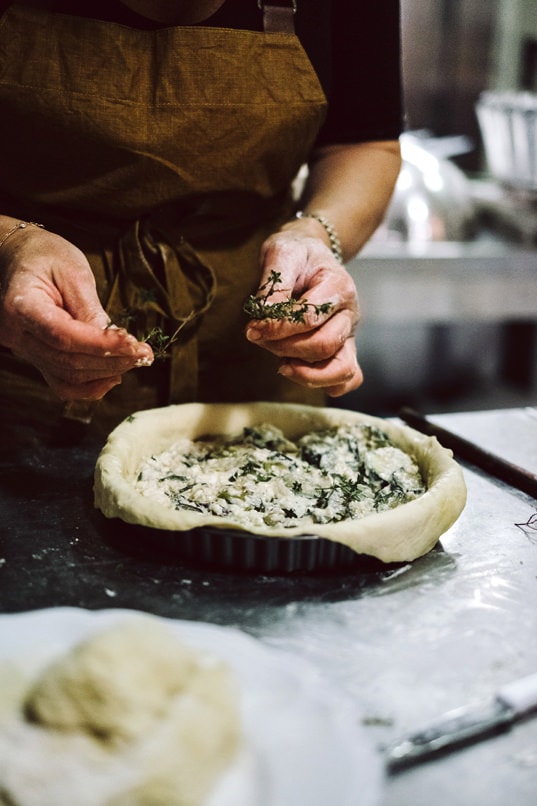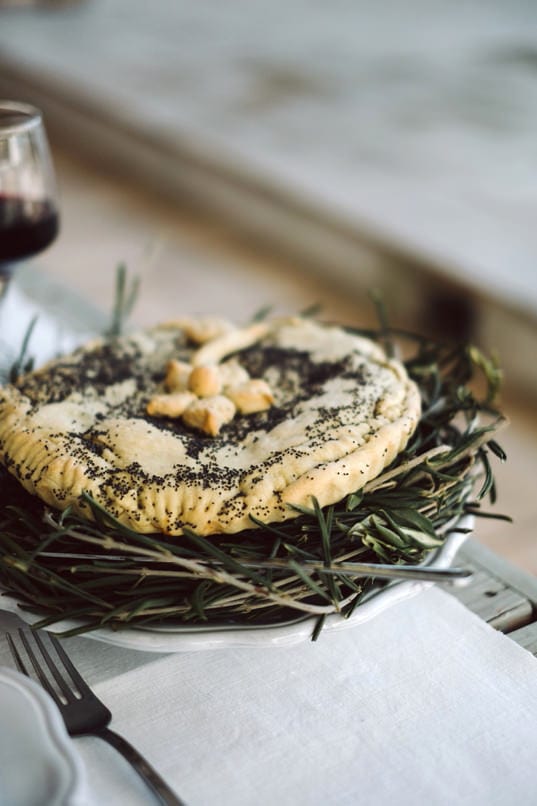 Let's get out into the sun and have breakfast. Afterwards, we fire the stone oven one more time. By now, routine as settled. Still, Yannic has fun to make fire in the oven and to stare into the flames afterwards. Since your belly won't fill itself alone, Susann takes care of the ingredients. Put eggplants, tomatoes, fresh dates, garlic and onions in a huge pan, add olive oil, aceto balsamico and into the oven with it. Out come delicate braised eggplants with a light smoky flavor. With the leftover focaccia we absorb every drop of the tasty sweet sour sauce. Red wine is left, too. Jeez, we are doing fine!
The next morning the lemon from the masseria meets our eye. We have quite something lieft we want to eat up. Two apples, durum wheat semolina, maple syrup, and eggs. First association: Pancakes. We will see if they work with durum wheat semolina. We beat the eggs and add salt, almond milk, and zest. Dice the apples, and mix the maple syrup with lemon juice. Heat olive oil in a pan, spread the apples on the base and fill the pan with the dough. Bake for a few minutes, then put it in the pre-heated oven so the pan cake gets done on both sides. Turn the pan upside down, soak it in the lemon maple mix and garnish with lemon slices and rosemary from the garden.
Davide's oil is special because the olives are cold pressed within 6 hours after harvest. This way, he produces best quality organic olive oil. Beside the oil those two also produce liquors, jams, honey from their own bees, and other things for their label DFood. Even if the way Katia and Davide lead their restaurant requires a lot of time and knowledge it is probably the best. You do not only have full influence in your recipes, but also on the quality of all ingredients, which basically account to a dish. What finally lands on the guests' tables in the evening is harvested in the own fields in the morning. And this we may experience now as well. Back in the restaurant Katia cooks even two of her recipes. She lets us take a look into her pots and tells us everything important about the preparation. She makes wild succory which we harvested together, on a bean mash and a rather modern creation of her own with potato foam, Romanesco broccoli florets and half dried tomatoes. There is a lot of good olive oil, too. Just like the evening before, it tastes deliciously and we really have to hold back not to lick the plates clean. It is wonderful to see with how much love and passion Katia prepares the dishes. Again, we drive back to our trulli with our bags full of presents. Beside two bottles of their olive oil we got all ingredients for a lemon-herbs-liquor, which we already had the evening before as cordial in their restaurant. In the bag are zests of their home grown lemons, wild fennel which we harvested freshly, laurels, rosemary, and dried chamomile blossoms.
On the last day of our trip we meet Davide and Katia from Giardini 36 and got on a joined hunt for wild vegetables and herbs for a traditional Apulian recipe. The evening before we already spent in their stylish and modern restaurant and were eager to get to know more about the concept. The menu is pretty lucid with only a few selected seasonal dishes, and yet everyone finds something. They even had two vegan dishes and others could be prepared vegan/vegetarian on request. Made from regional organic, often home grown ingredients, they offer traditional dishes as "purea di fave con cicoria" as well as own creations. After 8 days of white flour we finally had our first whole wheat bread. Gorgeous! In the morning, we drive with Davide, Katia and Davide's brother Luciano, who is our translator, to their land to collect wild succory and herbs. En passant we learn a lot about agriculture, botany and regional traditions. Katia shows us a plant with big, soft leaves which can be used as bandages; from another you can gain an essence against high blood pressure. The family owns 30 hectare which is farmed organic. During the winter, the meadows grow wild so the soil can regenerate and get new nutrients. In spring, everything is broken up and sowed. Furthermore, herbs and vegetables here do not only grow in classic patches but also grow wild. Besides plenty of cherry and other fruit trees there are olive trees as well, of course. Davide tells us that harvesting olives is pretty complex, since it is forbidden to harvest these trees, which are older than 100 years, with modern machines.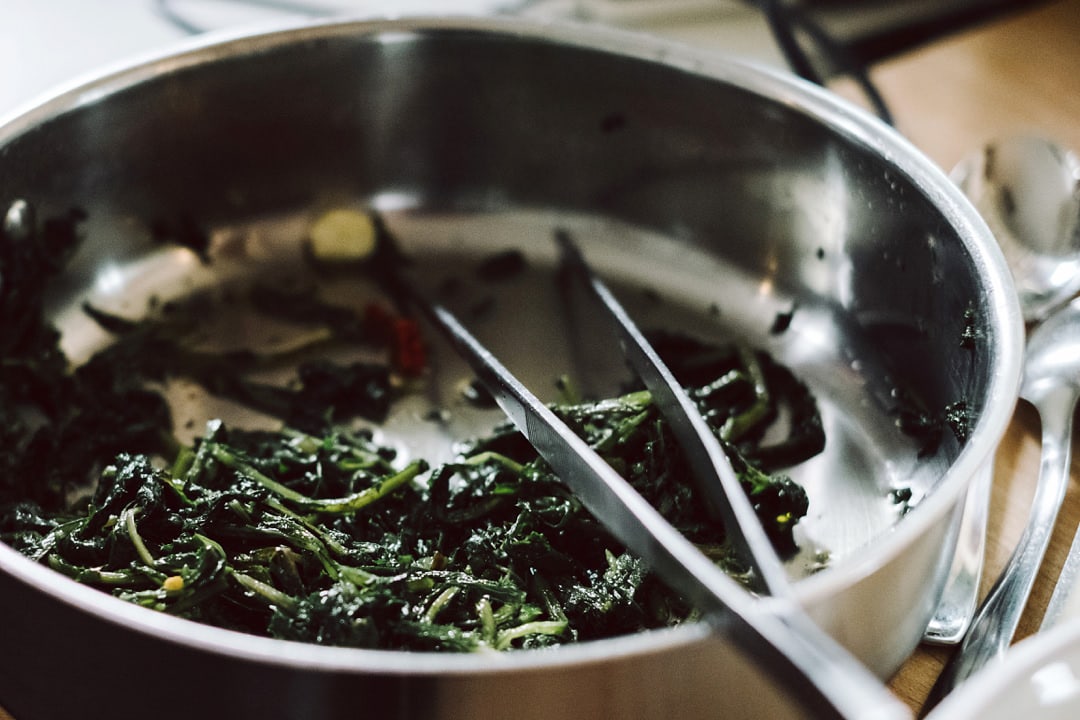 While the storm is raising outside and hailstones pelt on the ground we sit in our warm trulli and think about the last days in excitement. We were welcomed with so much hospitality, and people invited us into their homes and talked about their cooking with their eyes bright. For us, it was an extraordinary experience on which we want to build on. We hope you fancy more culinary journeys. We have tasted blood for sure and are already debate the next destinations.