Just put up the tent at inspiring places which let you settle down. Because this is possible in Scotland we chose this special spot on earth. And why we chose especially this sort of housing. We are far from being experienced campers so we wanted a tent de luxe (on the other hand... when you see other people building tent castles at camp sites…). We slept wonderfully on the big, warm mattress on top of our Defender. It is not like a campervan in which you can cook, withdraw yourself into when it gets uncomfortable outside. In a roof top tent you are just closer to nature, do a lot of things outside but in a very comfy way. Within five minutes everything is set up and in our car we had everything we needed.
Scotland. How could we possibly describe this country? A country we traveled in search for tranquility and to be embraced by mountains, water, trees and fog. Maybe we should start at the beginning – at our decision to be on the road, with car and tent, in the midst of nature, far from any digital razzmatazz we experience every day. To stay creative, we need such breaks from time to time. Away from computer and cell phones, Facebook and Instagram, from virtual talks. Then, we are looking for the pure, the real and pristine. To focus who we are now and where we are heading. In four weeks, you can embark with every fiber on absorbing nature, discover the new, find back to oneself. We love this way of travelling because you are completely free and take life as it comes. Without expectations, without obligations.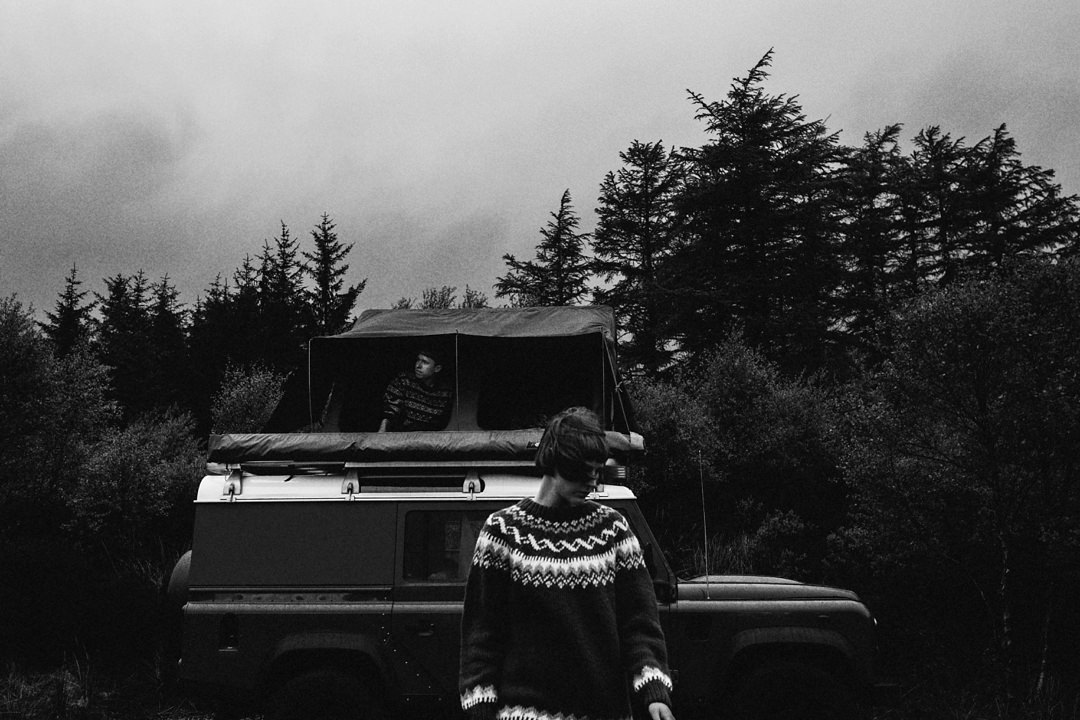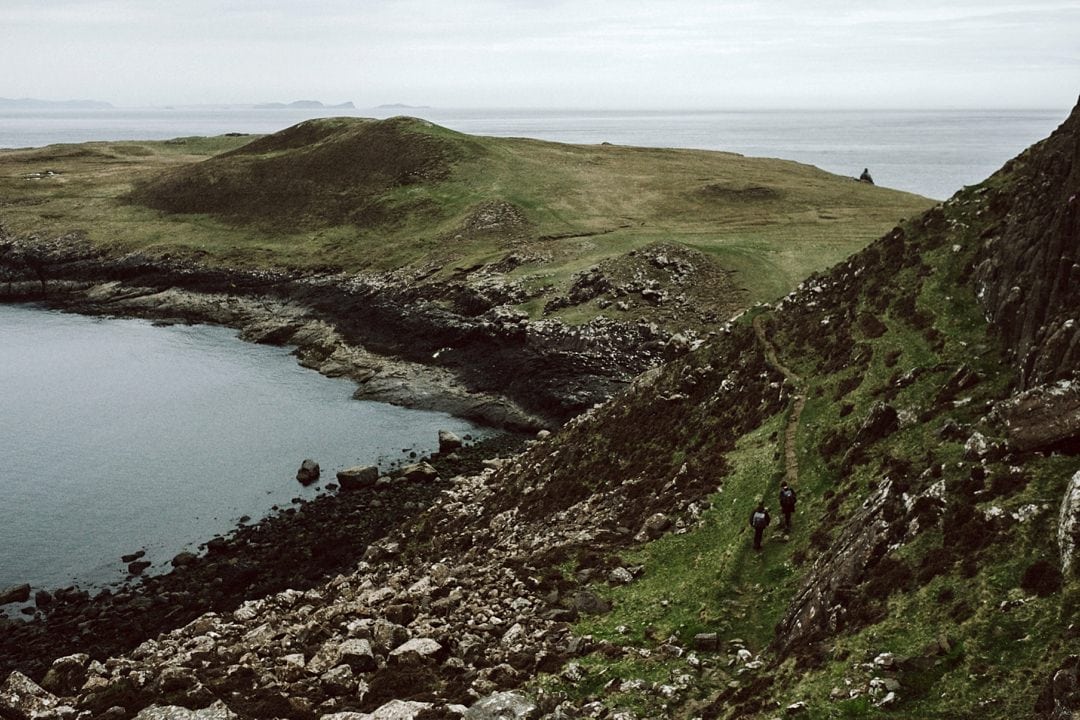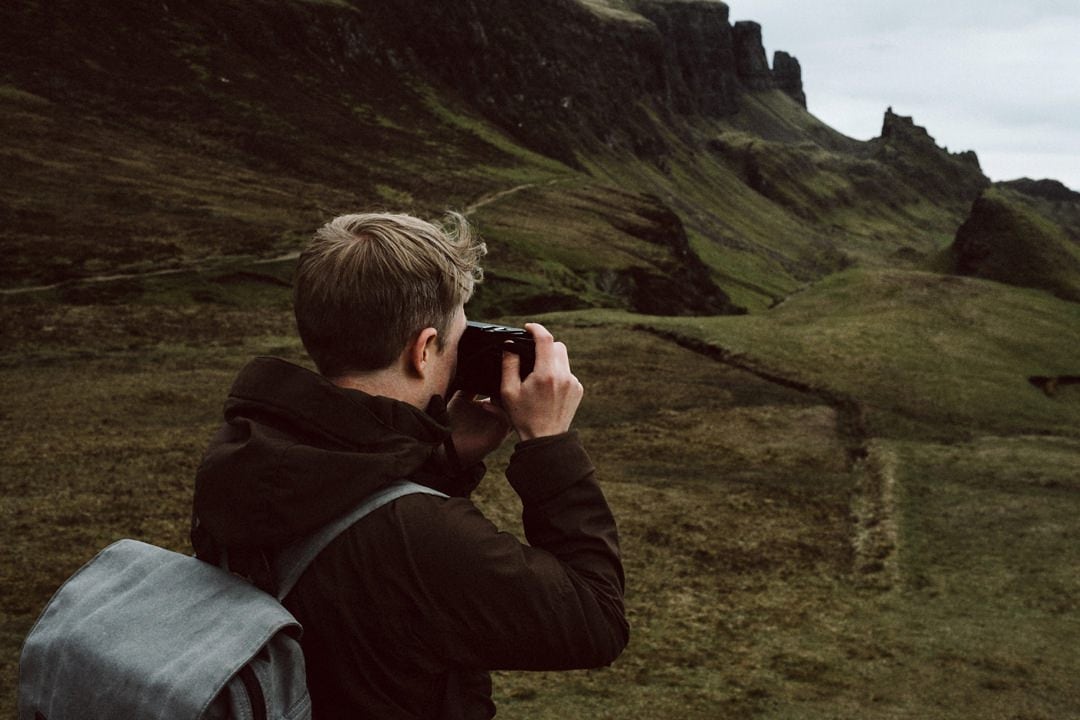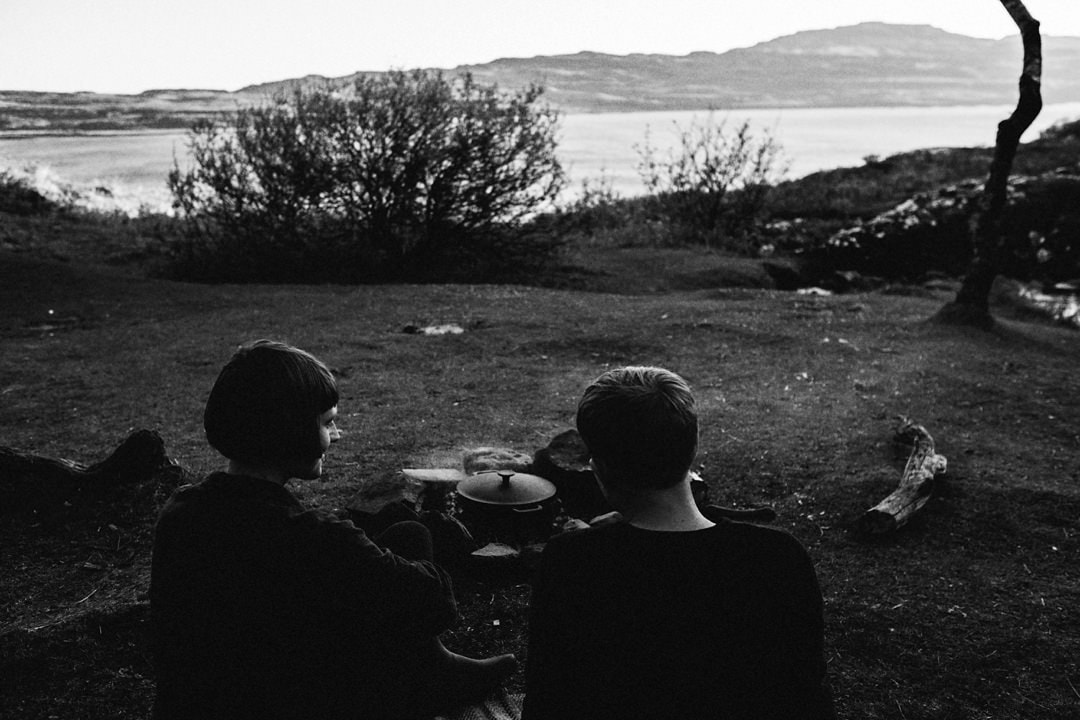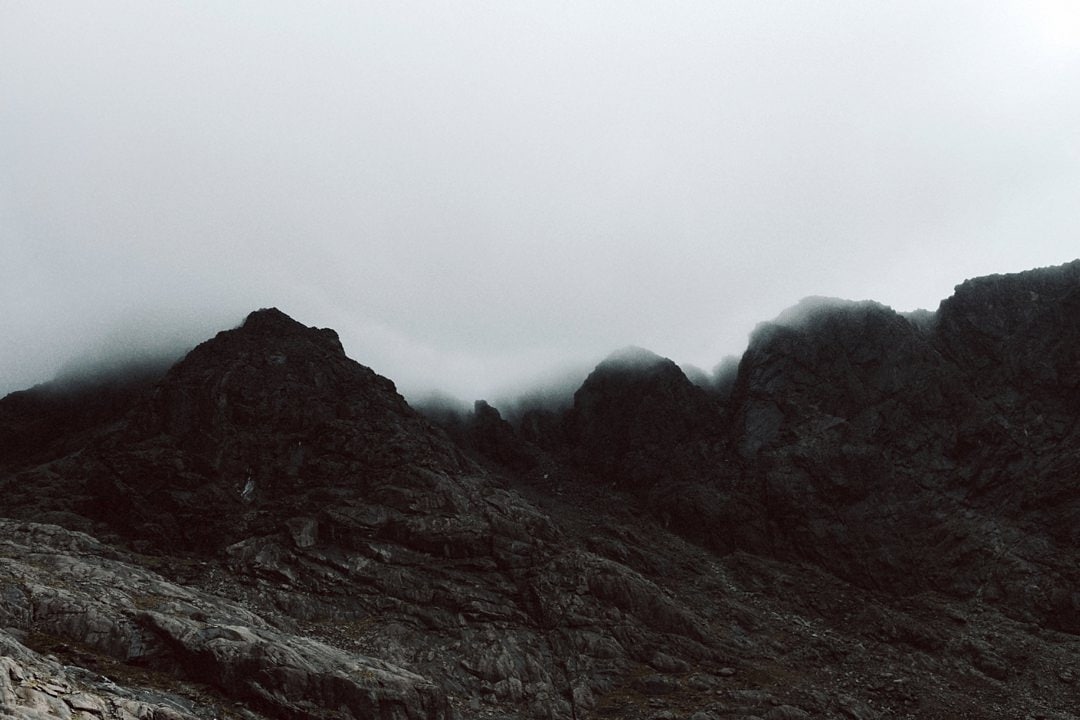 Falling asleep and waking up to the sound of bird's twittering, washing oneself in a crystal clear lake and to breakfast relaxed afterwards is just wonderful! The morning got even better when to Ranger appeared and were not interested in our camping permission for a minute, but were pretty curious about our Land Rover. The Scotts are incredibly nice people. The two boys asked for our route, gave us tips, and even shared photos of their own travels through Scotland. Every crested peak made their breast swell with pride. It was pretty cute. Despite the beautiful location and the pleasant company we packed up to move on, towards the Glencoe everyone is talking about! And we have to say you find yourself at an incredible scenery. Hundreds of others agree. We imagined the kilometer long dirt road down to Loch Etive to be deserted and empty. Well, you may be a bit naive from time to time! In the real world in every parking lot was a campervan. Tents were sprouting everywhere. We discarded all our plans of hiking the valley and around Ben Nevis unceremoniously since we were not looking for perfect motives for Instagram and Pinterest which were already burned into our retinas before we even saw the places ourselves.
We started our tour in Edinburgh. We had some time to check out the airport. When our luggage finally was on its way down, it was so late we had to camp at the Scottish capital. The next day we were on our way west. If the main purpose of a road trip wasn't getting from A to B we probably would have idled away the entire first week in Loch Lomod & The Trossachs National Park. Big excitement before we were even "on the road". Directly on the first day we also noticed that it is very relaxing to live without cell reception is pretty relaxing, but also rather complicated. The National Park is one of the few places in Scotland where wild camping is prohibited. Since we did not know we needed a written permission we spent an hour searching for a cell phone signal to get exactly this permission. This alone was a little adventure itself. From our favourite spot to a place with cell reception and back to our favourite spot, because we did not know the exact name, back to the place with cell reception…and so on and so on. The effort was well worth it! We spent our first night in nature at Loch Achray.
We were looking for tranquility in which we could lose ourselves and get the feeling it is only us in the world.
A thirty minutes drive from Fort William we found our feelings of happiness. All of a sudden, on the way to Mull, we found a small lake and for hours not a soul passed. We also had a great view on the mountains of Glencoe which we could enjoy all alone. The whole way to Mull was relaxed and we had lots of time for cooking and for us. While camping we always remember how much fun we have cooking with only a few ingredients and to make it work without many odds and ends. At the first day of our trip we stacked a supply box which lasted to the last day. We stacked plant oil, red wine vinegar, salt, pepper, roasted pepper powder, mustard, kernels, maple syrup, and dried tomatoes. Those ingredients were our base for seasoning. And it is incredible how many and varied flavours you can create with them. Our stove was usually the open fire. Cooking or grilling and smoking directly at the fire is pretty magical. First, you chose the right wood, then you get cozy at the fire place and you spend the whole evening around the pot. One of these super grilled dishes was filled bread we baked in a cast-iron pot on the fire. Eggplants and peppers were roasted directly in the embers, peeled, chopped and rolled as juicy stuffing in yeast dough. The bread has to bake for an hour in the pot, turn over once in between.
The flavor was delicious! Along with it we had a waterfall's ripple, a bottle of beer in our hands, a warm breeze on the skin, what more can you wish for? Maybe a turquoise beach with sheeps? Woods in full blossom, black rough stony shores, red telephone booths somewhere nowhere? You got that on Mull. And sun! Just because of this we chose May for our travelling month. It is the driest month and there are no or only few midges yet. Midges? You don't know them? That's great! Midges are tiny mosquito minxes who bite you and give off a stinging and itching secretion. If this was not enough they only appear in swarms. In thousands. Just like sheep. The latter just do not make you beat around wildly but make you squeal in joy. Thos cute lambs are everywhere! You can't have a bad day in Scotland in spring. Eventually, somewhere a joyfully hopping little lamb appears and all your sorrows are gone. But back to the weather. Rumor has it that you can't expect a second sunny day after you had one already. Not even in the driest month. Sometime, we were at day 7 in a row. Where are we again? Where is all the rain and the fog? About time to move on to Skye! Lo and behold, on the way to the harbor the first small clouds appeared and got thicker with every kilometer.
It got uncomfortable outside, cold, the sky was more and more overcast and gray, and a drizzle came down. Finally! This is how Scotland should be!
We chose destinations which are not so easy to reach because they are not directly at the road. On the hike to Loch Coruisk, for example, we only encountered three persons on 20 kilometers. Speaking of one of the most beautiful Lochs in Scotland…maybe we should speak verbosely and go back a day. Here we are back at our traveling tradition when Yannic face plants himself. Jumping through a river on slippery stones can, well, backfire. Especially if you had one of the longest hikes of the tour planned for the next day. Due to Yannic's hurting ankle we even thought about taking a boat to Loch Coruisk. However, the small harbor in Elgol was out of order for two days. Even the moored boats were already pretty shaken, we did not want to imagine how this would be on open water. So, he clenched his teeth and stepped up with a sprained ankle. High hiking boots plus ointments and painkillers can perform miracles! Our tour set off at the beautiful Cullin Hills, cozily on a gravel path. It was obvious that a long way was ahead of us, but not too many meters in altitude. Easy Peasy! After 15 minutes we frantically took out our rain gear because all of a sudden it came down in torrents. After half an hour walking through fog the heavy shower is over. Just at the moment we reached the saddle of Am Mam it cleared and we realize we are in the middle of the mountains, viewing the foaming sea and the tour's first loch.
After 10 days without warm water and power our beloved Scottish weather left us no choice but to camp at the second camping site of our trip. We would lie if we said we did not enjoy the hot shower. Hell, we would lie! We somehow also found it comforting to have solid sleeping place. You really can spend a lot of time searching for that perfect place to sleep. Are we there yet, do we drive a little longer, is there a better view waiting just around the next corner or a place which offers a little safety against a storm? Do we stay at the lake or in the woods? Is the ground dry enough, straight enough, far away enough from the road? And this day for day. Our route usually meandered through single track roads, away from big streets. You can drive more relaxed and absorb all the impressions or just stop without creating a traffic jam. Even if the sleeping place is a bit too close to road we still sleep better than in Berlin where we are often woken in the early morning by the garbage collection (we do not want to complain about the great service, though!) It soon becomes clear why Skye is so popular. The island has a very special atmosphere, and offers spectacular landscapes in a small area, also far away from visitor attractions like the Old Man of Storr, the Fairy Pools, Kilt Rock, Neist Point or the Fairy Glens. A small advice even if this goes without saying: wherever you are, if you keep going you are alone at some point. The busses with all the tourists have to leave after half an hour, there is so much more to see so there is not enough time to stay much longer at the hot spots.
This feeling is amazing every time. Wandering through thick fog just to arrive at a totally different scenery as soon as it clears.
We are about to put our camera away into our backpacks so we are faster getting back when a deer is standing right in front of us, just a few meters away at the overcast loch. We just have to reach out. It looks directly at us. We exchange a glance, thinking about to get the camera slowly out of your backpack – but the moment is gone. It only remains in our minds. But maybe it is better this way than to be pressed into pixels. The best photos are those never taken, aren't they? Like this, we remember the small street we drove along on our way to Neist Point. The landscape was covered in fog and suddenly a peat cutter appears with his dog. A fantastic picture! Again, only in our minds. It is well preserved there. Exhausted by the strength-sapping and nerve-racking hike we are on the lookout for a place to sleep again. The requirements are not as high as usual. The main point is that is has to be quiet so we can get out of the wind and get some rest. We talk to a quaint local with a big bushy beard. First of all he laughs at us saying these merely 50mph (80 km/h) to be a storm. It is only a storm if your car door flies for a few meters as soon as you open it. Roughly 100mph. In an encyclopedia we find a term for that: hurricane. We follow his advice to camp at a remote parking lot we already spotted on our way there. Time and time again we experienced you don't have to shy away from a parking lot. Even if you are searching for a quiet place to sleep. Frequently, those resting stops are set up in a way to find some secluded spots, surrounded by trees, at which you can spend the night undisturbed. We could go on and on about Skye, but you just can't compare it to being there yourself. So we are moving on in our text, northbound. Marveled, we cross the Applecross Path with its narrow street which winds through the mountains. Moving on to Shieldaig passing a landscape shaped by hundreds of lochs; further on to Torridon Hills in which you can hike for hours. Still, we shorten the hike to Beinn Eighe. 5 hours in cascading rain is enough at some point. The best hiking boots give up, rain flows into your rain gear and it just ain't cool anymore.
Using wet, slippery stones once again we cross a river. This time very slowly and without wet pants. On a promontory we hiked directly at the sea. The hiking guide puts it this way: "inconvenient clefts and boulders have to be circumvented or climbed over multiple times – warm up for the Bad Step." With gusty wind and moisture you have to watch every step not to glide away. At the meadow parts our boots sink into the swampy ground. Finally, we make it to the infamous Bad Step. "Just above the crystal clear sea we balance on a split off boulder", the guide says. No sweat! For us it is an easy thing to do, to balance with muddy, slippery boots on a cleft in a wet boulder which leads directly into the sea! With a clear head everything is probably easier than is looks and sounds. Still, we rather looked for a detour which still required a little climbing, but which also meant only a few bruises if you lost your step instead of falling into water with your backpack on. Finally, after all the effort, the beautiful loch lays before us, clad into gray clouds. It was only this moment when we realized how much time we lost climbing, looking for detours, getting our boots out of the sticky mud. This wasn't our plan. A slight nervousness grabs us, additionally we wonder how to proceed. Going back after all these exertions is not an option. So we move along our way through the mountains. Well, "way" is an exaggeration. We lose our path again and again. We wouldn't get much further without GPS. How lucky were we, just in this moment our batteries went low. The spare batteries were in the car, of course, which is totally making sense, right? The dark gray, heavy clouds move fast above our heads, the slight nervousness becomes a full grown panic. What will be waiting for us in the mountainside anyway? Is it wise to follow an unknown, 10 kilometer long path with this unpredictable weather? Without coordination, without cell reception, with only a few hours left until nightfall? This is one of the moments every Scotland guide warns you about. Even on the shortest route you can find yourself in unexpected situations. Brightest sunshine can turn into currents of rain within a heartbeat. You can easily get lost in thick fog. With all that in mind we had to make a decision. We decided for the tough, but known route back, over the Bad Step, the slippery, windy promontory, and the river.
On the other hand… being all alone in the mountains, watching a herd of deer while only hearing the rain thrumming on your hood… well, then it is cool after all.
Then we are northbound again. We loved Loch Assynt. The rest of Route 500 we finished within a day because we found it not to be as thrilling. There are some beautiful castles, exciting caves and surely other great things to discover. Still, as a road trip with a car we would not recommend it. Even if we were rather excited when we reached Duncansby Head, the highest point of Scotland. On the cliffs within the dreamily blooming flowers rare sea birds are nesting. If you ever wondered where all those sea gulls come from – they are all from here. They nest in thousands on the cliffs. Delighted, we watched the small sea gull town on the cliffs above the rushing sea. Next destination: Cairngorms National Park. Again, we could spend our whole vacation here. This park contains five of the six highest mountains of Great Britain.
If you then find a waterfall waiting for you around the next corner, finding its way down in cascades of water, it gets even better. Even in the rain. With wet feet. Afterwards, it is actually time for a camping site again. Cold rain swaps with hot shower. Sand Caravan & Camping Park is one of the most beautiful ones we visited in Scotland. Even if the camping ground is pretty large and across from the reception caravans park crammed, it disperses on the wide range. With a tent you can find a quiet place within the dunes, with a direct way to the beach as a plus. During bad weather, you can stay in the large kitchen. The shop has everything you need. There is even a nice café and the whole area is clean and trimmed. For two days we relax at the sea and enjoy doing nothing. Wandering, reading, cooking, sleeping.
The enchanted woods are filled with pine scent, moss, and blueberries. Once there hops a little bunny, then there grazes a deer. It is almost too cheesy to be real.
The last days of our travel we wanted to spend in Glasgow and Edinburgh. But before, we stopped at Loch Lomond & The Trossachs National Park. Ending the road trip where it started. We had a great evening at Loch Achray, the warmest of our vacation. We celebrated with a two course menu which we prepared in and on the bonfire. We had baked potatoes, riced peas with dill and mustard, and grilled radishes. As dessert we had grilled rhubarb with cinnamon crumbles, and enjoyed the sunset while eating. We could have spent the whole night sitting at the bonfire and celebrated into Yannic's birthday. However, by now there were so many midges, it got unbearable outside. As compensation, Mother Nature showed us the most beautiful sunrise with foggy mists floating on the lake. This is well worth waking up at 6.00 in the morning.
Unfortunately, wild camping is rather difficult, if not impossible, in this area, but there are not one, but two marvelous camping grounds in midst the woods: Rothiemurchus Camp and Caravan Park, and Glenmore Campsite. We spent some great days there. Behind the loch at the camping site you can see mountains with snowy peaks. Still, we decided for the cozy niche in the woods instead for the wonderful view.
We grilled (potatoes with asparagus and a vinaigrette of oil, red wine vinegar, mustard, beer and maple syrup) while from somewhere the sounds of a violin swept over, we watched the wood for hours, wandered around, and canoed on Loch Morlich. It was incredible. In Cairngorms National Park you can also spend the night without a tent or camper. Just look at all the great accommodations!! Or visit one of the many boothies which are spread all over Scotland.
The exact route, some of our camping spots, and highlights you can look up on the map we prepared for you. Here, you also find some of our hikes and restaurants we tried.
The most important utensil on our trip was of course the Defender. The great, great Defender, which stirred a lot of attention on the street and at camping grounds alike. It is incredible how the people reacted to this car. There are probably some photos of us peeking out of our tent in the morning , brushing our teeth, sitting at the bonfire and maybe even more we don't want to know about. Not only the driving reminds you of driving an old-timer, the peoples reaction is also pretty much the same. You get in contact straight away because all where highly interested in our incredible tent. You really make a lot of new friends with it. A bit bizarre but funny nonetheless. Admittedly, the Defender of Scotland Overland comes with a price. Still, in the light of equipment and maintenance it is worth every penny. The team thought about everything while equipping it, starting with basics as dishes, cutlery, fresh water, gas cylinders, an astoundingly big fridge, to flashlights, towels, fresh rags, spades, grill, even sleeping bags if you don't have one yourself. Ah, the list is too long. It is all well and cleverly packed so you reach everything in an instant. We are incredibly delighted!
Before every vacation we do, we visit the Globetrotter Store in Steglitz, even if we always have the feeling we are pretty well prepared already. Still, every landscape and surrounding demands a special gear. We were supported by Globetrotter when we prepared and equipped our trip to Scotland. We were lucky to win them as the sponsor of our dreams for our trip. Some of the provided products we want to show you more detailed.
Until now, we got along without GPS pretty well. This time we would have been lost. Map and compass may look adventurous, but if you can't handle them correctly, you will only keep bad memories beside some nice photos. Also, if we remember how often we lost our way due to vague explanations and descriptions, a GPS map is a good companion. Plus, it is fun to look up the route you've been hiking.
Although we had sleeping bags in the Defender, we preferred to have our own. As always, we were counseled very well at Globetrotter. You can take your time to look around closely, and ask thousands of questions to find your perfect sleeping bag. We decided to get some down sleeping bags, although we discussed the ethical aspect of this quote some time. Even better when the bags come with an animal protection label. Mountain Equipment as well as Yeti emphasize the ethical production of their sleeping bags. Concerning the sleeping comfort, we made the right decision! Even at cold temperature they got cozily warm after we got into them. If we hadn't got new linen covers for our home in Berlin, we probably would have spent another week in the sleeping bags. Yannic had the Mountain Equipment Helium 400  and Susann selected the Yeti Tension Comfort 600.
Not quite unimportant is the topic of hygiene. Since we washed ourselves a lot in nature, organic shower bath was a must. We even found something better. Dr. Bronner's Magic Soaps a.k.a "the most wicked soap ever" is not only organic to 100%, is made of fair trade oils, vegan and filled in recycled bottles, no, it is also usable in multiple ways! There should be about 18 different ways to use is which can't list here for you. Of course, we used the shampoo and shower bath, but also as toothpaste, deodorant, but also as detergent. It smells terrific and feels so fresh on your skin due to ethereal oils. We had the peppermint version.
Since the car was well equipped already, we wanted to keep it neat with good bags. For that, we had the great Eagle Creek Packing Cubes. They are super handy to sort your clothes and pack them using as little space as possible. Additionally, they are manufactured in a high quality so you should have fun with them for a few years. In the Eagle Creek Etools Organizer we could keep our cables tidy. Although we planned a trip into nature we had some electronic devices with us which had to be charged once in a while. For that we needed cables over cables over cables.
For charging our laptops we had an 150W inverter with us. Also, we had two Goal Zero power bank, of which one is also a charger. All of it could be charged via cigar lighter in our car. This way, we could keep our devices charged throughout the trip.
Of course, this is not a complete packing list, but only described a few items which thrilled us the most. Incredibly helpful in Scotland are definitely waterproof shoes, raining jacket and trousers, as well as waterproof backpack covers. We also had a first aid kit with us, a penknife and a lighter.
This post was written in cooperation with Globetrotter. Even though we were paid for this article, we give our own opinion uninfluenced. We had full rein over text and content of this article.