We filled the apple chutney made of apples, onions, white wine, cider vinegar and raw cane sugar into sterilised canning jars. Thus, the apple chutney is good for a few months and may bring joy beneath the Christmas tree. Also the dukkah blend is suitable as a present. Here, the careful roasting of all ingredients is the crucial part, which spreads a superb scent in the kitchen.
There is one thing we especially enjoy on those days: to observe which guest takes which part while cooking and how different the methods are. That is truly exciting! There are those who unceremoniously take command and keep an eye on the recipes and everything will be ready in the given time frame. Then there are those who change the single tasks into little challenges: who chops the nuts faster? Who peels the longest apple skin from the apple? Others are so deeply caught in conversation, that a pot boils over or the pan starts smoking… Everyone brings his own quirks – but still, or maybe even because of that an inspiring group dynamic evolves which leads to great results.
There are these kinds of traditions you become fond of and which you remember with a joyful sigh. It's just like this with our event we organize with Manufactum*and which took place for the third time this year. For this occasion, we invited our guests on this foggy, crispy Saturday into an especially beautiful factory floor in Berlin-Kreuzberg, the Friends Space, to herald the time before Christmas with a festive lunch.
As a greeting, we reached a golden almond milk with turmeric and ginger, cinnamon and a organic Chai Massala Syrup to our guests, which all came directly out of the cold. Considering the temperatures outside, this was just the thing to boost your immune system! In contrast to the events the last two years when we cooked the whole menu with our guests, the preparing of the food was completely on us. Keeping the upcoming advent in mind, we wanted to create two lasting, culinary delicacies with our guests: apple chutney and a wonderful dukkah blend as presents. Both of the creations were later also used for the menu.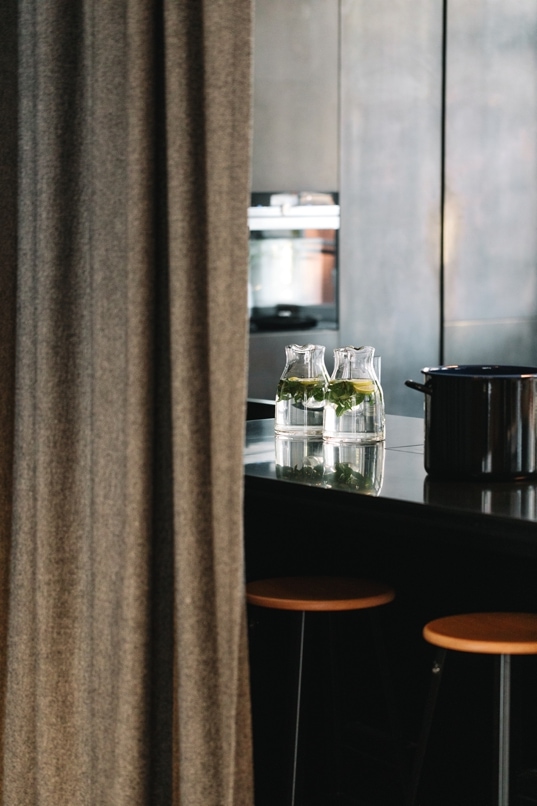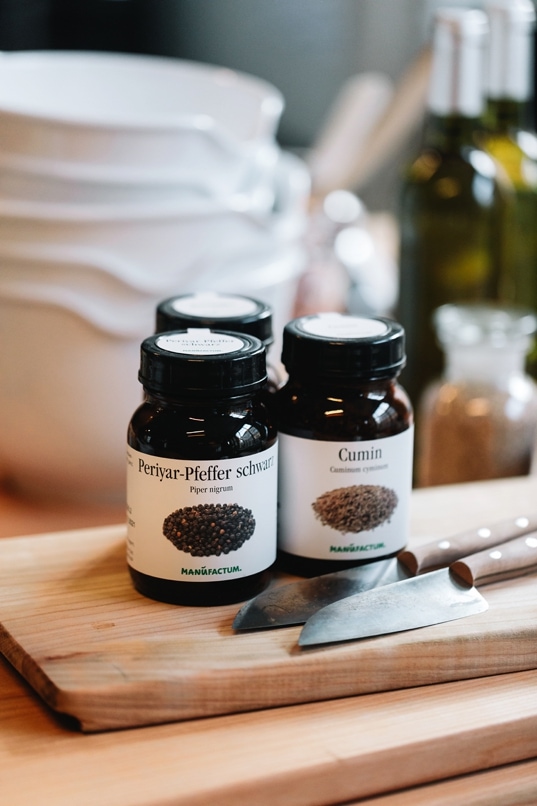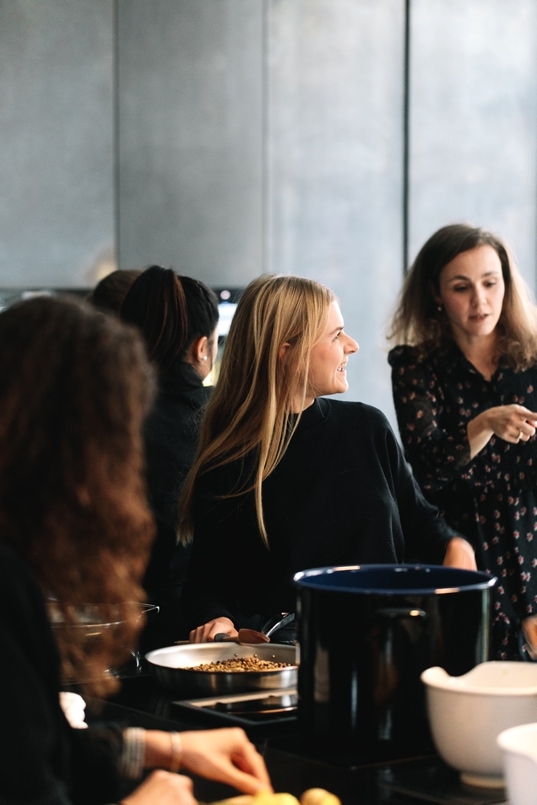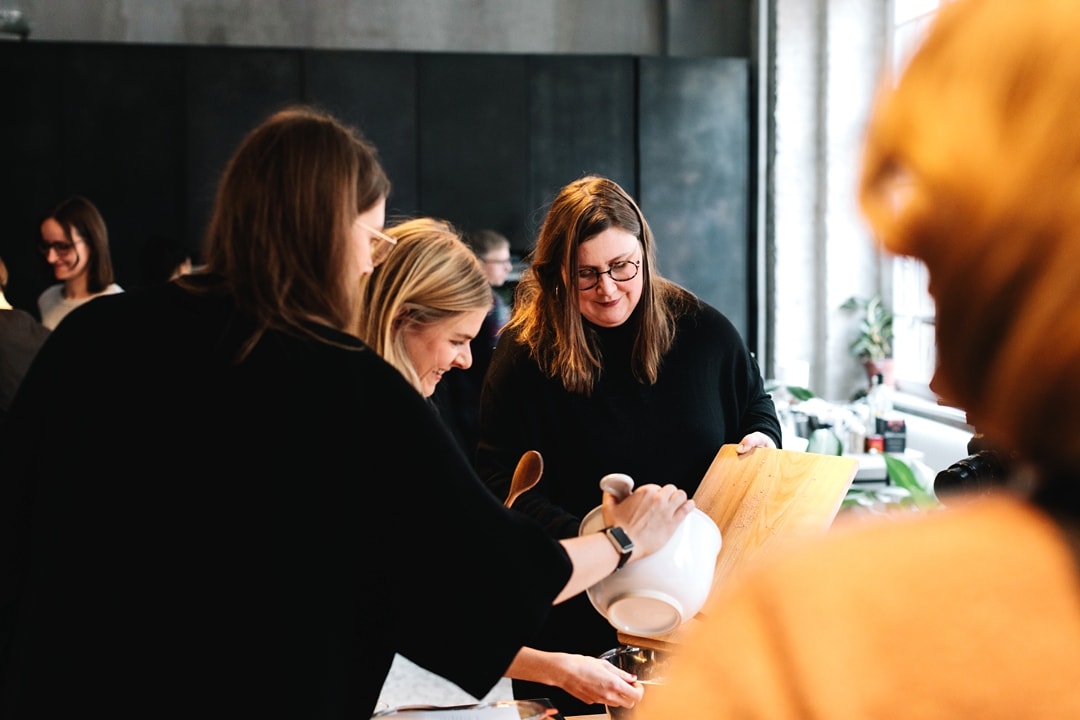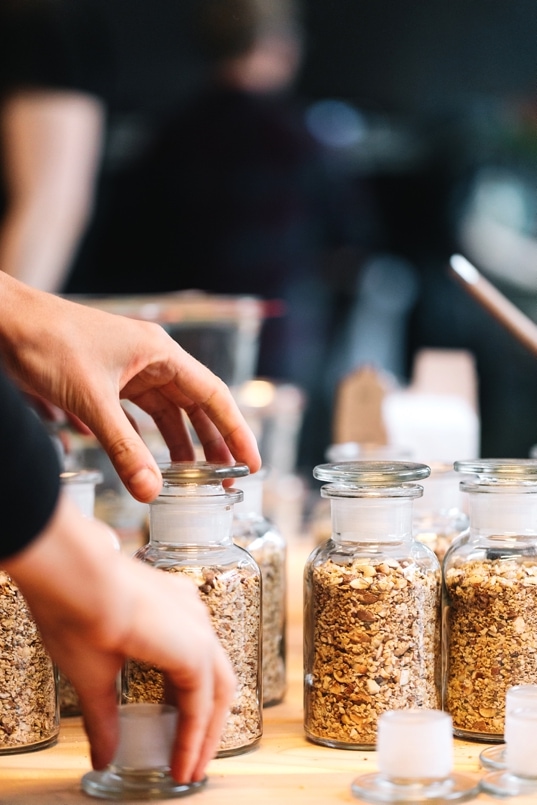 We asked Benjamin Donath for support with the menu. We started with roasted sourdough bread from the brot&butter bakery, which we topped with baked pumpkin, apple chutney, smoky cashew cream and fried sage. As main course, we had hummus with cauliflower, crispy chickpeas, dukkah and parsley oil. We reached an autumn salad of roasted fennel, apple slices and radicchio along with it. The menu was rounded off with a dessert, which contributed its own part to the topic of tradition: at all our Manufactum events, we used the great professional ice cream maker. With said wonder of a machine, we created delicious ice cream in no time: a creamy chocolate sorbet, conjured of the aromatic Bonnat couverture chocolate, accompanied by a wonderful ensemble of elderberry-pear and speculoos. Apropos wonderful ensemble: it is wonderful to be able to set up such events! We gather so many interesting and warm people who realise our recipes with lots of love and care. A big thanks to you, you valued guests from far and wide, and of course to Manufactum for their trust to realise this event with us. On that note: to the traditions, the good ones!
Beside the joy of cooking, our guests are united in their sense for aesthetics. They zestfully appreciated not only the gorgeous ingredients supplied by Manufactum (like the delicious Piemont Hazelnuts and the great olive oil from Tuscany), but also the cooking utensils. Those were functional, and nice to look at, too. Manufactum had even more for us, so we really had our fling while decorating: with a selection of linen cloths and napkins, fine porcelain, matt cutlery, countless tea candles, and charming apothecary bottles, we could transform the simple wooden tables into a long, festive table. After preparing, or better: cooking the culinary presents, we had to take care of their appearance, since "Give&Enjoy" was the event's motto. Even if we are not too crazy about Christmas, we love to surprise friends and family. If this surprise is also beautiful to look at, you double the joy. Along these lines our guests could give their creativity full scope with different papers, ribbons and yarns, dried flowers, stamps, and lovingly wrap their presents. Meanwhile, a bubbling and sizzling started in the background, so we could end the afternoon with a mutual, delicious meal.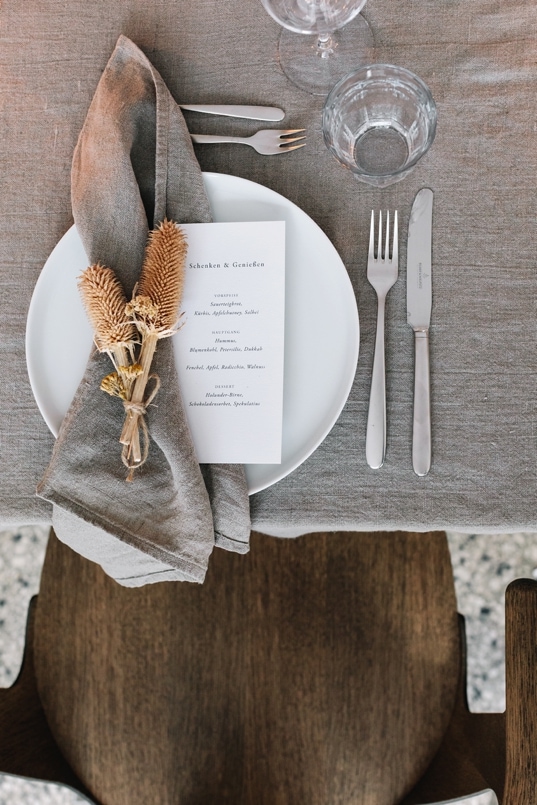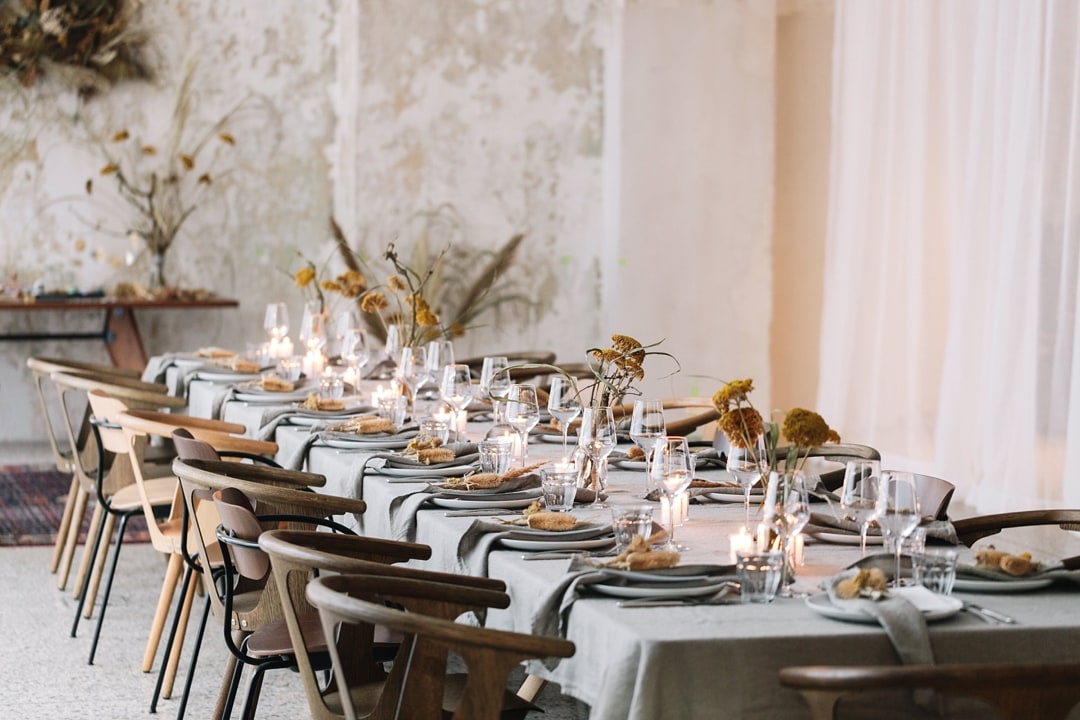 This post is created in cooperation with Manufactum. Even though we were paid for this article, we give our own opinion uninfluenced. We had full rein over text and content of this article.